In July, a cartridge of Super Mario Bros. was sold for $ 114,000 (more than $ 600,000), breaking the record for the most expensive game in history. Months earlier, however, an American investment company quietly paid even more for the game, disbursing $ 140,000 (R $ 755,000) for the best existing copy of the Nintendo classic.
The price is justified by the quality of the acquisition. The copy was rated 9.8 A + by Wata Games, a company that specializes in assessing the conservation levels of old games. " 'of the game', explains CEODeniz Kahn.
Some features of the packaging indicate that the 1987 cartridge:
The game cover features a round quality seal that was used until 1989. After that, it was replaced by a lighter, more oval version;
The inscription "Nintendo Entertainment System" does not have a TM front. The symbol of trademark it was inserted in the logo in mid-1987;
According to Wata Games, it is one of the 14 remaining copies with "hangtabs", which have hooks hanging from the top rear. This type of packaging stopped being marketed by Nintendo in September 1987.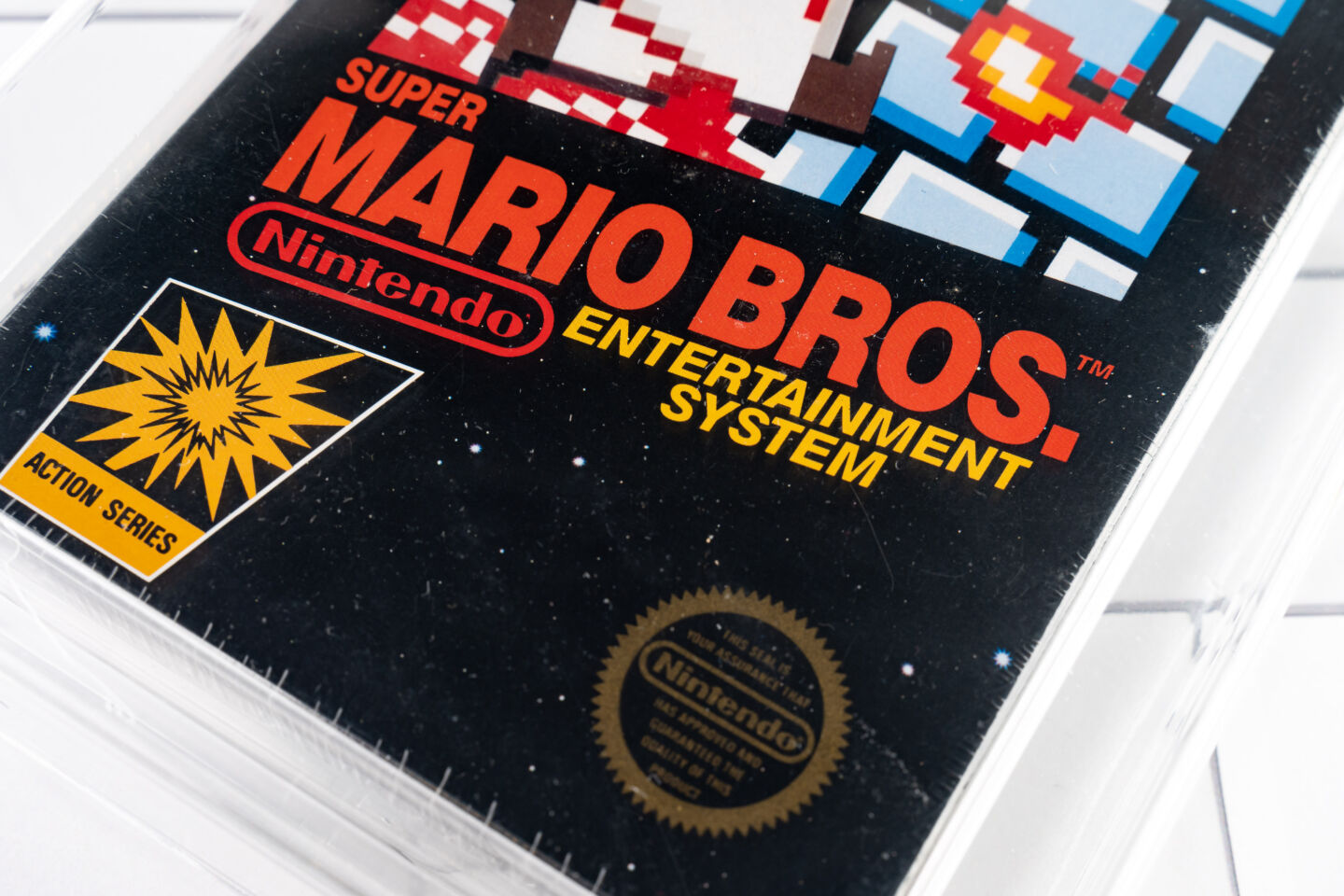 Packaging details suggest that this copy of Super Marios Bros. was manufactured in 1987. Image: Reproduo / Ars Technica
Three thousand pieces of Super Mario
The most expensive cartridge in history has not been purchased for its own use. Rally, the company responsible for the purchase, intends to resell it for US $ 150 thousand in the week of August 21. The curious thing is that it will not be aimed at a single owner, but at three thousand.
Rally is an investment company that invests in the demand for collectible items. Its operation consists of acquiring rare copies of automobiles and watches, for example, and selling its assets to interested collectors.
That's right, it is possible to buy stocks of a rare item and acquire a thousandth of your property, even without ever seeing it in person.
In the case of Super Mario Bros., three thousand individual shares will be sold at US $ 50 per unit, totaling US $ 150 thousand. The cartridge itself will be stored in a secure facility with state-of-the-art security and temperature controls. In the future, it may be exhibited in museums and galleries across the United States.
Fitz Tepper, vice president of Rally, says that there are no guarantees that there will be so many interested in the game, but that offers similar to this one sold out in "a matter of minutes". Now, the company plans to repeat the process by acquiring other classics, such as The Legend of Zelda, Super Mario Bros. 3 and Stadium Events.
Via: Ars Technica
Search Millions Of Tech Jobs Now Free