The rumors of the iPhone 12 are becoming more and more intense. At this point, we already have a clear idea of ​​what the smartphone will look like due to leaks of information from the smartphone's "graphic schemes".
With these schemes, some manufacturers are able to manufacture smartphone dummys. Those that, for example, you can find in stores on display and do not work but are the same as the "real" ones.
iPhone 12 next to iPhone SE and iPhone 7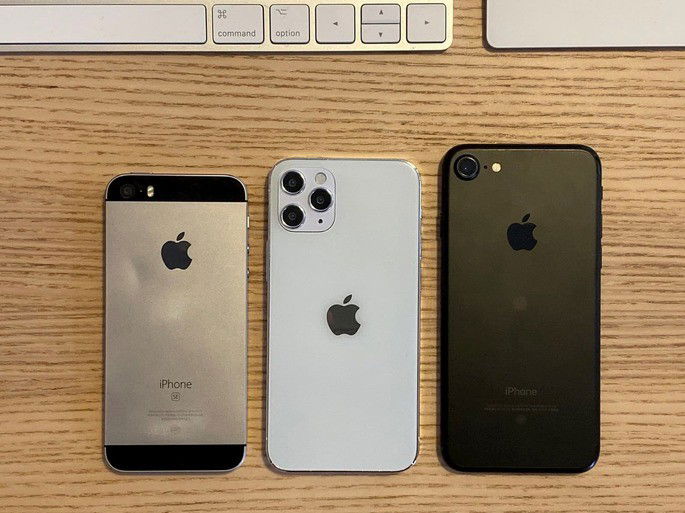 The brand lover named iZac, a participant in the macrumors forums, bought an iPhone 12 dummy and decided to put it side by side with other equipment. In this case, the first iPhone SE (which has the same design as the iPhone 5) and iPhone 7 (which gives us the same design as the new iPhone SE 2020).
In these images we can see that the new iPhone 12 will win over all those who are fed up with big smartphones. The terminal has a size between the two devices and will be smaller than the new iPhone SE.
However, we must bear in mind that the screen must be larger. This is because the iPhone SE 2020 has those huge margins that we have seen since the iPhone 6.
Still, the user said that the smooth edges make using the iPhone 12 much more comfortable than the models currently on the market. This could be one of the big differences in design level for the iPhones 11. That and the reduction in notch.
Finally, the iPhone 12 will be slightly wider than the iPhone SE 12. That is, since the screen is longer, it is normal for Apple to compensate for it on the sides.
The new iPhone 12 will be officially revealed in September and if everything goes as expected we will have 3 new models of the smartphone. However, it is still worth mentioning that other rumors say that there will be more than 3.
4gnews editors recommend:
Search Millions Of Tech Jobs Now Free