Practically one year after its launch, the manufacturer Nvidia announced on Monday (5) a renewal on the Jetson Nano computer. Costing $ 59 (about R $ 331.14) and with the addition of Wi-Fi, the Jetson Nano 2GB is being launched at the end of this month.
With it, the company wants to facilitate access to Artificial Intelligence technologies for groups of students, enthusiasts and developers.
The new model will work on the basis of a 64-bit A57 ARM Quad Core CPU running at 1.43 GHz, with a 128-core Nvidia Maxwell GPU, 4 GB RAM, in addition to two UBS 2.0 ports, one USB port 3.0, HDMI, Camera Connector, microSD card slot for main storage, Gigabit Ethernet port, among others. The computer also comes with a compatible Wi-Fi USB dongle in the box.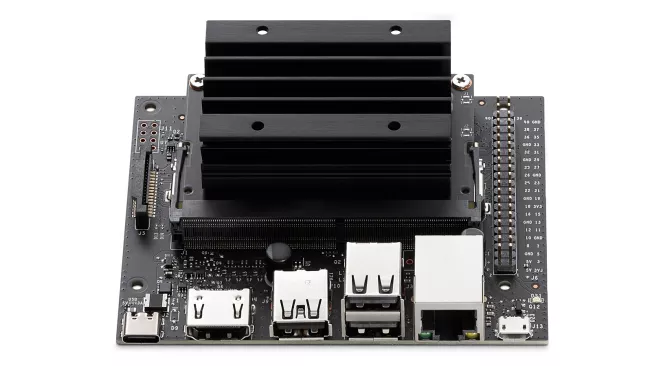 New version of the Jetson Nano model will cost around R $ 331 reais and will be launched later this month of October. Credits: Disclosure / Nvidia
When adding this new device to a creation, be it a robot or an Artificial Intelligence system, it will be possible to perform some autonomous tasks of system navigation, object recognition and among others without relying on external processing.
Democratization of new technologies
As part of the launch, the manufacturer also announced that it will introduce free online training and certification programs to introduce new members to the Artificial Intelligence universe. Thanks to its previous releases, especially the first version of the Jetson Nano, there is a community of developers who share tutorials and open source projects.
According to Deepu Talla, vice president and general manager of Edge Computing at Nvidia, "Students and engineers who currently program via computers will, in the near future, interact and transmit Artificial Intelligence directly to robots. The new Jetson Nano the AI ​​computer for beginners that allows hands-on learning and experimentation at an incredibly affordable price. "
Via: Tom's Hardware
Computers Accessibility Artificial Intelligence NVidia Nvidia Shield computer
Search Millions Of Tech Jobs Now Free