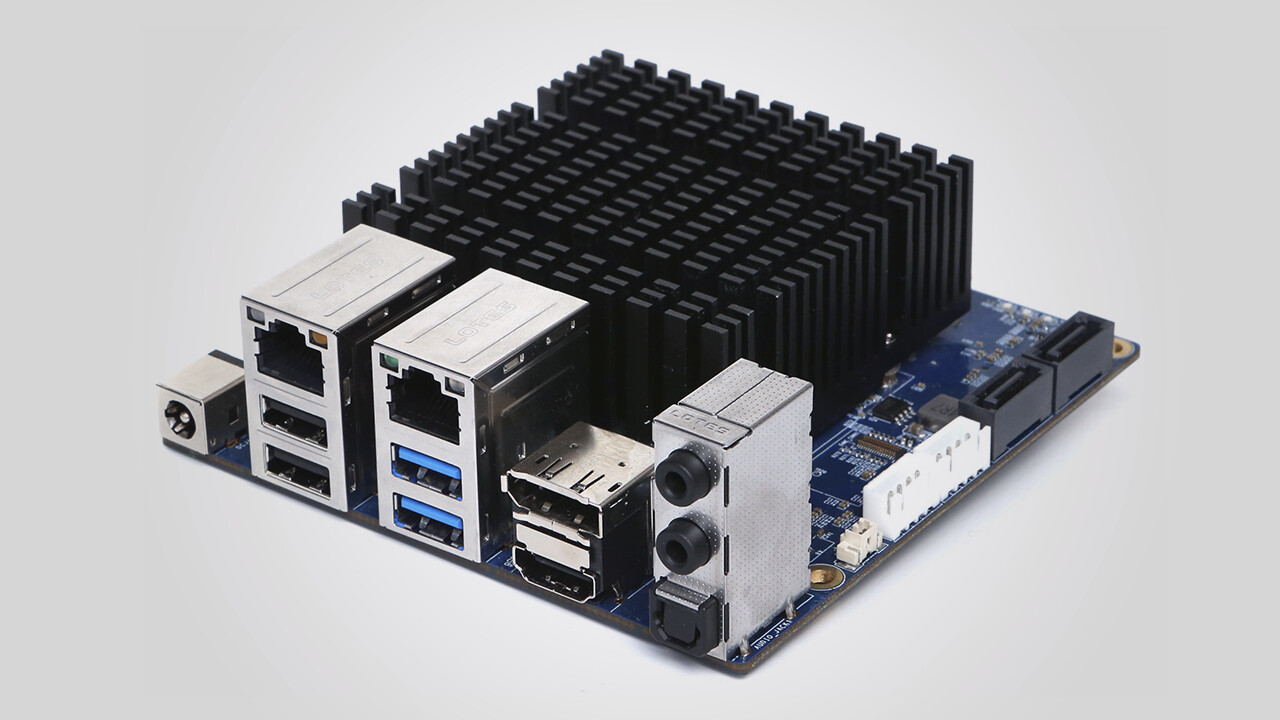 Hardkernel has started shipping the Odroid-H2 + mini PC. The 11 × 11 cm small single-board computer is based on an Intel Celeron of type Gemini Lake with four cores and runs with Ubuntu 20.04 LTS ("Focal Fossa"). The tiny PC system also offers two SO-DIMM slots and two Ethernet connections with 2.5 Gbit / s.
Fanless single board computer based on x86
With the Odroid-H2 +, Hardkernel refreshes its x86 portfolio and advertises the small system as "out of the box" ready to go and 100 percent compatible with the current Ubuntu 20.04 LTS from Canonical, whose download Hardkernel offers directly via its own website. In addition to its ARM product lines, the company now also maintains its x86 products.
At the end of April, the manufacturer introduced the Odroid-C4, the much-needed product maintenance for the Odroid-C2, which was accompanied by the change to a system-on-a-chip manufactured in 12 nm, which was based on four ARM Cortex-A55 with 2 GHz clock frequency based and a neural co-processor, a so-called NPU, owns.
2 × SO-DIMM, 2 × SATA 3.0 and 2 × 2.5 Gbit LAN
In addition to the Intel Celeron J4115 from the 14 nm family Gemini Lake, which has 4 × 1.8 GHz base and up to 2.5 GHz turbo clock and has a 4 MB L3 cache, the Odroid H2 + a total of two SO-DIMM slots that hold up to 32 GB DDR4-2400, two SATA ports and one PCIe 2.0 x4 for NVMe memory solutions.
The Intel UHD Graphics 600 (Gen9.5) of the Intel SoC takes care of the image output, external displays can be connected via HDMI 2.0 or Displayport 1.2. Connectivity is provided by four USB-A ports, two of which are USB 2.0 and two others with USB 3.2 Gen1.
The highlight on the 11 × 11 × 4.7 cm measuring board are the two Ethernet connections with a transmission speed of 2.5 Gbit / s of the type Realtek RTL8125B. In addition, the 285-gram mini PC offers an S / PDIF for optical and two 3.5 mm jacks for analog audio output.
The Odroid-H2 + should not consume more than 4 watts on the desktop and should be satisfied with a maximum of 22 watts in the stress test.
Pre-order is already possible
The Odroid-H2 + is now available for $ 119 official website can be pre-ordered from Hardkernel. Another interesting "tiny one", which is even more compact with its dimensions of 61 × 61 × 43 mm, is the Chuwi LarkBox with its actively cooled 0.16 l housing, for a price starting at $ 169 (before tax).
Related Images: