Xiaomi surprised again by launching a new smart product on its crowdfunding platform Youpin. The new Jenner XS smart toilet is perfect for any type of user, being able to adapt automatically to the height of each person. According to the brand, this toilet can adapt to users with a minimum height of 90cm, being perfect for children and adults.
Unfortunately, as interesting as this smart toilet from Xiaomi may seem, for users it will certainly remain just a "dream". Like the rest of the products launched on this platform, Jenner XS is also only available in China, being very unlikely to reach international markets.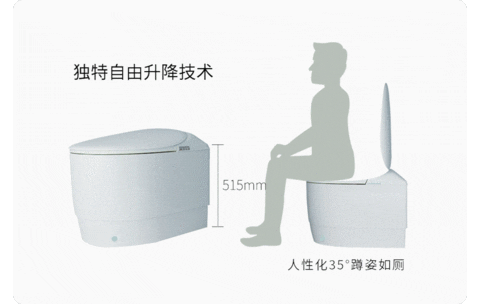 Xiaomi Jenner XS is a smart toilet that should reach the whole world
Although this is not a very common type of product in Portugal (and in the rest of Europe), the benefits of these smart toilets are undeniable. In addition to making it easy for children to use, it will also help adults correct a common posture problem thanks to its intelligent lifting technology.
To increase the level of comfort during use and also the level of hygiene, Xiaomi Jenner XS arrives equipped with a gentle intelligent cleaning system, using a water spray and a hot air feature to finish the process.
As you would expect in a product of this type, its lid is also intelligent, opening whenever it senses the approach of a user and closing as soon as the user gets up. Through its control, it is possible to perform all its functions manually, including determining a constant temperature for the toilet lid.
Xiaomi Jenner XS smart toilet prices
Xiaomi has made two variants of its smart toilet available on the Youpin platform:
Jenner XS with manual cover – € 590
Jenner XS with automatic cover – € 715
4gnews editors recommend:
Search Millions Of Tech Jobs Now Free